Addiction Treatment Center in Lafayette, IN
Substance Use and Addiction Treatment in Lafayette, IN
Located 64 miles from Indianapolis and 124 miles from Chicago, Lafayette is the Tippecanoe County seat in Indiana. Founded on the Wabash River in 1825, the city is home to more than 70,000 people, including many of the faculty and staff of one of the world's premier engineering schools, Purdue University, in neighboring West Lafayette.
The area is rich in history, culture, and natural beauty and is a hub of science and innovation. Amelia Earhart is one of the famous people that the area is known for. Students at Purdue Airport can use the same facilities that she did.
Art lovers will enjoy exploring the Haan Museum of Indiana Art, the Art Museum of Greater Lafayette, and Purdue's art collections. There is also a lively contemporary music scene in the area.
Nature lovers will enjoy a hike at Prophetstown State Park. There are also other nearby state and federal park areas that allow visitors to take in gorges, forests, and waterfalls.
Addiction in Indiana
Given the many stellar qualities associated with Lafayette, it may come as a surprise to learn that it is not immune to the epidemic of substance use disorder that is spreading across the United States.
Overdose Death Statistics
The problems that plague Indiana are of nationwide concern. Since 1999, almost 841,000 people have died due to an overdose of substances such as opioids. In 2019, there were 70,630 overdose deaths in America. While opioids are the main culprit, substances such as psychostimulants play a role, as do alcohol, cocaine, and marijuana.
Death rates in Indiana from drug overdoses almost doubled between 2010 and 2017. Almost 500,000 Hoosiers, nearly one out of every 12, are suffering from substance use disorder. Addiction is considered one of the state's largest problems.
Rise in Street Drug Use in Indiana
Doctors have been trying to combat the problem of addiction by limiting the opioids they prescribe for pain relief. Unfortunately, more users are turning to unsafe choices such as heroin and fentanyl, which can be obtained illegally from street dealers. Not only are the chances of overdose higher with the use of these illegal substances, but the risk of infectious diseases is also greater.
Treatment Is Lacking in Parts of the State
The options for treatment are not as widespread as they need to be in Indiana. Medication-assisted treatment is necessary, as this is the evidence-based standard for opioid addiction.
If you or someone you know is dealing with substance use disorder, it's important to know help is available. Many people have experienced the same struggles you are going through and have found hope and healing. While recovery from drug and alcohol addiction can be very challenging, it can be done with the right resources.
First City Recovery Center can help. Our compassionate professionals provide a variety of treatment options to help clients recapture their lives and find a path back to sobriety.
The center is a source of hope for those who avail themselves of the resources provided. Here, you'll find both traditional and innovative modalities that are uniquely targeted to meet your needs or the needs of someone you love. Instead of struggling alone, you can be part of a supportive team. Whether the issue is meth abuse, alcoholism, or opioid addiction, our staff can help you to get through the challenges you face to begin the life you want.
You Are Not Alone
Many people think they are the only ones in Indiana dealing with substance use issues. This is simply not the case as the statistics prove. While heroin and alcohol are the most commonly abused substances in the area, they are not the only issue. The Lafayette police and local health care professionals have been fighting the tide of rising drug addiction and overdoses for many years.
Teenagers Are Also Affected
Adults are not the only group to struggle. Teenagers also deal with opioid addiction, and Lafayette has a concerning record for young people who struggle with this issue. The Purdue campus is one site that has seen an increase in drug-related arrests in recent years.
What causes a young person to turn to drugs? Reasons can include peer pressure, parental neglect, emotional and personal problems, and a desire to experiment. A teenager may start with a gateway drug, which over time can evolve into a full-blown addiction to a harder substance.
What Type of Help Is Available in Lafayette?
If you or someone you love is dealing with a substance use disorder in Lafayette, there are programs available that can help. For example, you can choose a support group or a 12-step program such as Alcoholics Anonymous (AA) or Narcotics Anonymous (NA). The advantage of these programs is that they are free and use proven techniques that have helped people attain and maintain sobriety. However, for those with long-term issues, something more intensive may be necessary.
Alcohol and Drug Rehabilitation Centers
Many types of detoxification assistance are available for those who need help in this crucial area. These include inpatient programs, residential programs, partial hospitalization programs, and outpatient treatment programs.
These intensive programs provide crucial elements necessary to support sobriety, such as medically supervised detoxification, cognitive behavioral therapy (CBT), and group and individual counseling sessions. The reason for such an intensive approach is that long-term addiction comprises a host of symptoms and risk factors that need to be addressed if sobriety is to be attained.
For example, withdrawal symptoms will affect those who have become dependent on drugs or alcohol. Not only can this be painful and unpleasant, but it can also be physically dangerous. Without a team of competent medical professionals to look after the person enduring this experience, health issues can occur. This essential step is necessary before the person can move on to other phases of treatment.
Medically Assisted Detox
During this phase of recovery, physicians who specialize in addiction issues will monitor a client's vital signs to manage withdrawal symptoms such as cravings while the person transitions to a drug-free state. Since relapse can occur due to these conditions, constant medical care is required to counteract this possibility. Medications can be offered to help manage symptoms.
Inpatient Rehab and Treatment
One of the most common types of drug treatment options in Lafayette is an inpatient recovery program, also known as residential treatment. Clients are required to check themselves into a controlled environment that will provide them with 24-hour medical, emotional, and psychological support in a comfortable clinical setting.
During inpatient treatment, clients can completely dedicate themselves to sobriety. There are no distractions from their daily lives. Inpatient rehab provides a carefully controlled and scheduled setting in which psychologists, counselors, therapists, psychiatrists, and other professionals coordinate to provide clients with both individual and group sessions.
Partial Hospitalization in Lafayette
Because drug treatment needs to address the individual needs of clients, partial hospitalization programs (PHP) are provided as well. This option is for those who can operate independently on a day-to-day basis as long as they have access to necessary therapies and support via mental and physical PHP sessions and therapies.
Outpatient Treatment Options
Those who struggle with addiction often find it difficult to move from their fast-paced and often overly dramatic lives to one that moves at a more normal pace. Outpatient programs can help these individuals lead a more normal life. These are particularly useful for those with busy daily schedules, such as working parents, business owners, and students.
Supervised Living
Supervised living helps someone in recovery to transition to a life of sobriety. He or she can use a variety of support systems while taking steps towards independence. Transitional living also helps clients find a place of physical stability regarding their health and assists them in becoming more self-sufficient and confident. Because these options mimic a comfortable home environment, they provide a level of comfort and security for emotionally fragile clients who need both the structure provided and a sense of community and family in order to thrive in recovery.
Drug and Alcohol Treatment That Works at First City Recovery Center
At First City Recovery Center, addiction is recognized as a disease to be treated with compassion and respect. Individualized treatment programs are used so that each client has the modalities and options needed for the best possible outcome.
It is important to realize that drug detox and recovery are time consuming and involve a methodical process in order to succeed. Typically, the first step is detox since clients cannot lead healthy lives until they have removed harmful substances from their bodies. Therefore, for severe alcohol and drug addictions, medically supervised detox is recommended.
Once this step is taken care of, then the client can move on to other modalities with the eventual goal being to guide a client safely back into his or her community as a healthy and productive member of society. First City Recovery Center provides comprehensive treatment options that include:
● Medically supervised detox: It is crucial to remember that a long-term addict who tries to detox on his or her own sets himself or herself up for failure. Not only is the possibility great that the person will give up and relapse, but there is the real possibility of a life-threatening condition. Don't be too proud to ask for the help you need. At First City Recovery Center, clients can use a modern drug detox stabilization unit to help them withdraw safely from drugs or alcohol.
● Inpatient residential treatment: A wide range of mental health issues, including trauma, can be addressed through the comprehensive offerings of inpatient programs. Through treatment, clients can understand how past events and their thinking and behavioral patterns led them to substance use disorders, so they can address the root causes of addiction.
● Outpatient treatment: Partial hospitalization, intensive outpatient, and outpatient rehab options are all available.
At First City Recovery Center, we address the root causes, not just the symptoms of addiction. Therefore, motivational interviewing, cognitive behavioral therapy, and family therapy are also offered. We provide the holistic treatment options that clients need to succeed.
If you or someone you love is dealing with addiction, reach out for help now. The sooner you begin, the sooner you can embrace a better life for yourself or a loved one. Get in touch with First City Recovery Center, where our team of professionals can answer your questions and help you find hope.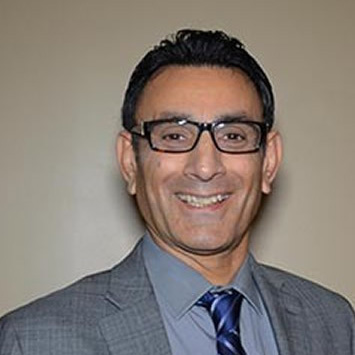 MD, Psychiatrist
Dr. Vahid Osman, MD is a psychiatry specialist in Indianapolis, IN.
Dr. Osman completed a residency at Austin State Hospital. He has over 32 years of experience in Psychiatry & Behavioral Health. He is board certified by the American Board of Psychiatry and Neurology.