Inpatient Rehab in Kokomo, IN
What to Expect From Inpatient Treatment in Kokomo, Indiana
Kokomo is a beautiful city in Howard County, Indiana, with an impressive historical background and a promising future. This is a highly populated city with over 58,000 people per the 2019 census. One danger of a large population is the increased risk of drug use and overdose, a major issue among residents of Indiana. In 2019, there were 23.7 deaths per 100,000 people. This means that a high number of people struggling with drug addiction don't get help.
The good news is that addiction is a treatable disorder, and you can prevent death by seeking professional assistance in a rehab facility. With the proper support, you will regain your freedom from drug abuse. If you are looking forward to helping yourself or your loved ones overcome substance use disorder, ensure that you choose the right treatment option. One helpful program is inpatient rehab.
What Is Inpatient Treatment?
Inpatient rehab is an intensive treatment program for people with severe substance use issues. The clients move into a controlled environment and become full-time residents, where they receive 24/7 care and support to help them overcome addiction. The main aim of this treatment option is to remove the client from the trigger-filled environment and make them fully involved in their treatment. You can stay in the rehab facility for 30 to 90 days or longer, based on the severity of your condition. People with co-occurring mental disorders will have longer stays.
The rehab center may offer private rooms, access to swimming pools, luxury suites, cafeteria-style meals, spa, or gym. Note that every addiction case is different based on the substances used, so inquire if the facility has experience with your specific situation.
Types of Inpatient Rehab Programs
First City Recovery Center offers two inpatient rehab programs: partial hospitalization and residential inpatient. Your doctor will assess your case and recommend the right option. Some of the factors that determine the type of program you will opt for include the severity of drug abuse, the length of use, and current medical and psychological conditions. It's good that you weigh the benefits of each option to know which one best suits you.
Inpatient Residential Rehab
For the inpatient program, the clients receive accommodation in the treatment facility for monitoring. The primary goal here is to help the patient stabilize. This is a short-term program, and you will be in the facility for a few weeks. Afterward, you will need to develop a continuing treatment plan to support your recovery. Mostly, only facilities with significant medical capabilities offer this program since the client may need to receive medication for the duration of the program. This treatment program highly benefits people with severe drug abuse and mental health issues. Inpatient program also helps those who have relapsed before or clients who are using multiple substances heavily. Opt for this option if you have a life-threatening disease influenced by drug addiction or have overdosed in the past.
Partial Hospitalization
If you still require a high level of care but can't attend the inpatient program, you can opt for partial hospitalization. This is also an ideal option for those who are leveling down from the inpatient program, especially for those who still have an imminent risk of relapse. You receive intensive care, but you can head home after treatment. You will have to attend the program for about four to six hours daily, at least five days a week. This treatment plan suits people with a good support system at home. You should be able to stay clean even outside the rehab center. Many facilities will do a random drug test on the clients to ensure accountability.
What Happens in an Inpatient Treatment?
The first experiences in a rehab facility can be very intimidating. Some people avoid seeking help since they don't know what the treatment entails. Although programs vary from one facility to another, there are a few things that are standard among most of them.
Intake
Once you check in at a rehab facility, an experienced doctor will receive you. You will then undergo a comprehensive medical analysis to determine the extent of your condition. Depending on the facility, you may undergo toxicology or medical test to evaluate blood pressure, temperature, and current drug status. The physician will also determine the severity of any mental illnesses.
The admission coordinator will ask you some personal questions to guide them in determining the proper care level that you will need. They will ask what substance you use, the duration of your use, the nature of your home environment, and if you have any existing medical conditions. Ensure that you answer the questions truthfully since this is the first step to maintaining long-term sobriety and preventing relapse. You will begin the rehab process right after admission.
Detoxification
The first treatment phase involves flushing out the toxins from your body to prepare you for rehab. For most people, this is usually a very challenging phase. If you try detoxing without professional assistance, you might develop dangerous withdrawal symptoms that are medically dangerous, can lead to relapse, and can increase the chances of an overdose. One of the main benefits of an inpatient program is that clients will have a safe space to detox with professional monitoring.
Even when you are so willing, you might find the withdrawal symptoms overwhelming. The intensity will differ based on your age, the type of substances that you use, and your body's tolerance level. Some of these symptoms include:
• Excessive sweating
• High blood pressure
• Insomnia
• Seizures
• Headaches
• Tremors
• Intense cravings
The detox phase may take between three and 10 days, and you begin to experience withdrawal symptoms in the first six hours. Usually, they intensify after 72 hours, and some can last for months. Although the first days are generally more challenging, you should feel better by the end of the first week. When you opt for the medically supervised detox, a professional will guide you on how to manage the emotional withdrawal and cravings. They might even administer medication to ease the symptoms.
Therapy
After detox, you immediately start therapy to address life stressors or other factors that led to addiction. Different facilities take varying approaches to therapy. One helpful approach is cognitive-behavioral therapy, which helps clients address feelings and thoughts that encourage drug use. The main aim is to help the addicted person understand why they experience certain emotions and how such thoughts and actions can trigger drug abuse. When someone better understands the reasons behind addiction, they become better equipped to overcome the issue.
During therapy, you will learn that you have the power to modify destructive thoughts and make positive changes in your life. You will learn how to recognize harmful thoughts, cope with stressful situations appropriately, and face your fears. By the end of this therapeutic course, you will regain your self-confidence learn more adaptive ways of thinking, and you should expect a reduction in your symptoms.
Another highly effective treatment approach for people struggling with substance abuse is contingency management. This option involves giving the clients some incentives after passing the drug test or attending all therapy sessions. Keep in mind that humans love to pursue things that create a sense of reward, and this is how most people get into addiction. Drugs stimulate the production of the feel-good hormone dopamine. So the brain begins to associate the substance used with pleasurable feelings. As a result, most people develop drug dependence to recreate these effects.
Mainly, contingency management helps teach the clients how to experience healthy rewards and pleasures. You can get cash prices or vouchers with some cash value to shop items that support a balanced, sober life.
Therapy also involves motivational interviewing to encourage clients to stay committed to the main goal, which is long-term sobriety. One common problem with drug addicts is demotivation. Most people turn to substance use as a coping mechanism to deal with life traumas. Large numbers of people in the rehab facility don't feel ready to quit the drug. Others don't think that the substance has harmful effects, and they also fear dealing with the consequences of ceasing drug use like withdrawal. So, lack of motivation can be a significant barrier to recovery.
The counselor will first have to engage with the client to know them better and create a trustworthy relationship for this treatment approach. Together with the therapist, you will discuss some of the behaviors that you feel you should change. While holding these discussions, the therapist will ensure that you feel confident and ready for change. The counselor will encourage you to set your own goals and control the recovery journey. This makes the client feel more empowered and positive towards change.
The client will also learn how and when to reach out for help when things get complicated. You should know that you are never alone in this fight, and there will always be a person to hold your hand and guide you through. First City Recovery Center offers different therapy sessions during the inpatient program.
Individual Therapy
Inpatient treatment primarily features an individual therapy session whereby the clients meet up with a trained professional to work through personal issues. In these sessions, you will feel safe discussing details you wouldn't wish to share in a group setting. During such sessions, you can talk about your pain points, any problems you experience at work, strained relationships, and concerns from friends and relatives without feeling judged.
Group Therapy
Expect also to attend therapy sessions with other people struggling with similar issues as yours. You will share experiences and develop better techniques to handle difficult life situations. This highly benefits people struggling with social anxiety or depression. It will also help you establish meaningful relationships with people who have similar goals.
Family Therapy
Family therapy is another vital component of the rehab process. It brings together your loved ones to try to identify family patterns that contribute to your mental illness or drug abuse. Your family members will better understand your condition to offer more support. As a result, it can help mend troubled relationships with your family members and aid recovery.
Aftercare
Recovery is continuous, and even after you complete the inpatient program, you will need to discuss an aftercare plan with your therapist. The physician will assess your situation and recommend the best possible option. For some people, the therapist can suggest that you consider an outpatient treatment plan. You come to the rehab center for a few hours and head home later. You can carry on with your daily activities like work or school while still in treatment. There are a number of other options that clients find helpful as well.
Alumni Programs
Most rehab centers plan meetups and other activities for their former clients. Ensure that you attend such meetings and stay in touch with your treatment team. They will give you the motivation needed to continue recovering.
Support Groups
Several social networks in today's communities encourage and support people on their recovery journey. Join these groups to interact with people going through recovery or those who have regained freedom from substance abuse.
Sober Living Homes
If your home environment triggers abuse drugs, you may want to head to a sober residence home after rehab. These controlled drug-free housing will help you healthily transition into your everyday life. You will live among like-minded people, eliminating temptations and possibilities of relapse. There are also strict rules in these houses aimed at promoting accountability and self-sufficiency.
Educational and Vocational Programs
If the substance use disorder interferes with your career or schoolwork, enroll in an educational or vocational training program. You will gain the right skills and knowledge to prepare you to return to work or school.
Your Freedom Is Within Reach
If you are struggling with drug addiction, it's essential that you get immediate help. It might seem scary at first, but things will get better with time. With the proper treatment and support, you will achieve long-term sobriety. First City Recovery Center offers comprehensive addiction treatment to assist you in your path to freedom from addiction. We handle every case with compassion and respect. If you are ready to end your struggle with addiction, get in touch with us for professional support.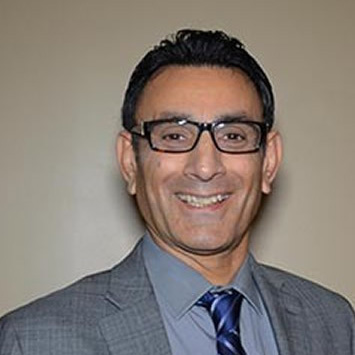 MD, Psychiatrist
Dr. Vahid Osman, MD is a psychiatry specialist in Indianapolis, IN.
Dr. Osman completed a residency at Austin State Hospital. He has over 32 years of experience in Psychiatry & Behavioral Health. He is board certified by the American Board of Psychiatry and Neurology.