Addiction Therapy Services in Kokomo, Indiana
Addiction is considered a complex disease that has to be treated from the inside out. Overall, addiction can affect a person mentally, emotionally, and physically. To secure successful sobriety, it's vital to address any underlying roots of addiction. 
Our addiction therapy services have several services offered in our treatment programs. The different types of therapy programs can take place in group settings or in one-on-one sessions. Every treatment plan is tailored carefully for each recovering individual, so the specific therapy used for each person will vary.
Therapy plays a major role in our addiction treatment. Substance abuse counselors provide vital support systems for those who are recovering from the following disorders:
Drug and alcohol issues
Gambling addictions
Behavioral issues
Eating disorders

Addiction is more of physical dependence on substances such as alcohol or drugs. After an individual has undergone detox with our addiction therapy services, the physical dependence should subside. A recovering individual is still at high risk of relapse after this process. 
It is paramount to work through the roots of addiction while developing healthy coping skills to address drug cravings. Therapy assists individuals in developing a toolkit of skills that people can use to work through cravings, temptations, and other uneasy feelings. Specific social and psychological factors that can trigger a relapse include:
Social circles, such as spending time with friends who continue to misuse alcohol or drugs.
Stimuli in the environment, like visiting a neighborhood that can trigger up a memory of using. 
Stress in various areas of a person's life, such as personal or career relationships. 

Overall, these triggers can tempt an individual long after treatment has been completed. For this reason, it's crucial to set a plan in place that allows an individual to work through every trigger productively and healthily. For example, when a relationship between a patient and therapist is formed, the counselor provides the following: 
Judgment-free guidance that patients can utilize during their road to recovery
Resources
Support 

Counselors in the addiction field assist recovering individuals with long-term addiction management concerns and crises. This can range from instant medical intervention to supporting them manage their long-term recovery plan. There are various benefits to our addiction therapy services as well. 
Benefits of Our Addiction Therapy Services 
Therapy provides several advantages that support an individual undergoing a successful addiction recovery program. Various types of evidence-based therapy specifically are beneficial to those struggling with co-occurring disorders. When a patient is diagnosed with a substance use disorder and mental health disorder simultaneously, a dual diagnosis is present. 
According to SAMSHA's Treatment Improvement Protocol No. 42, cognitive-behavioral therapy, also known as CBT, was recommended as an effective form of treatment for co-occurring disorders. The benefits that CBT provides in our addiction therapy services include:
Starting with mental health disorders as the foundation for developing treatment goals
Helping the patient change self-defeating and negative behaviors and thoughts
Addressing distorted thinking and teaching how to effectively work through it
Improving coping mechanisms
Different Types of Therapy in Addiction Therapy Services
Generally, addiction treatment is created of a combination of individual and group therapy sessions. These particular sessions are centered on teaching individuals in recovery the skills necessary to get sober and maintain sobriety. Also, these skills assist individuals in navigating various situations without having to turn to alcohol or drugs. 
Many different types of therapy can be utilized to work through emotional and mental roots. It is crucial to note that any co-occurring disorders, such as anxiety or depression, will be addressed in therapy. More times than not, addiction is one part of the issue. 
Commonly, a recovering individual might have a mental health disorder that coexists with addiction. When you take full advantage of our addiction therapy services that can treat both sides of the coin, it ensures more of a successful recovery. Each patient at our treatment center will receive a customized treatment plan that can incorporate a unique mix of therapies. 
Cognitive Behavioral Therapy (CBT)
Cognitive Behavioral Therapy, also known as CBT, utilizes various behavioral therapies and prioritizes the discussion of feelings and thoughts. It emphasizes the idea that negative thinking patterns can result in disagreeable habits and feelings and tiresome behaviors. Overall, the connection between feelings, thoughts, and behaviors is the central point of CBT.
During a CBT session, the therapist will act as a mentor and coach to recognize and discern feelings, behaviors, and thoughts that are associated with addiction. The therapist will search for cognitive distortions that can enable any harmful habits present in the recovering person's life. Furthermore, cognitive distortions can be described as unproductive or defective ways of thinking that might seem to be rational but is damaging and illogical. 
Contingency Management (CM)
Contingency management is another favorable therapy approach that is utilized to treat numerous types of substance use disorders (SUDs). This will include but is not limited to the following: 
Stimulant addiction 
Marijuana 
Opioids 
Alcohol 
CM is also utilized to reinforce or encourage an individual's sobriety. The groundwork of this therapy method offers various material rewards as motivation for positive behaviors, such as maintaining sobriety. Material rewards for the framework include:
At certain times, reinforcements might naturally come when an individual decides to stay sober. These natural rewards can be a sense of confidence and accomplishment in making healthier choices. Also, the rewards can show themselves as improvements in the individual's relationships with friends, family, or partners.
Furthermore, it can also result in an improvement in the person's health. Natural reinforcements can have a dynamic effect on recovering an individual's motivation to continue sobriety.
This program rewards the patient with a voucher for negative drug tests. There is a "trade-in" method with the vouchers where the recovering patients can exchange the voucher for particular times that support recovery. The actual value for the vouchers will begin low and increase gradually throughout
recovery
to reward the person for longer periods of a substance-free lifestyle.
Instead of the individual receiving vouchers, the patients of the treatment facility are allowed to receive a prize geared to attending treatment or completing a clean drug test screening. The actual value of the prize will transform as the recovering individuals continue to participate in the lottery system.
Motivational Interviewing (MI)
Motivational interviewing is an approach that is utilized to motivate individuals to modify damaging behaviors. MI is considered a patient-centered model of counseling, which means that the main focus is on figuring out what recovering patients want. Instead of what the therapist thinks is most suited for them.
This type of therapy is a fairly straightforward process that substantially only takes a tiny amount of sessions to be completed. Typically, the steps for this approach are the following:
Engaging: Discussing concerns, hopes, and issues, and establishing a trustful relationship with the recovering patient.
Focusing: Narrowing the conversation down to the habits and patterns the person desires to change the most.
Evoking:  Encouraging the overall development of motivation from a person can increase confidence, readiness for change, and the sense of the importance of change.
Planning: Creating a set of practical steps that recovering individuals can utilize to implement these specific desired changes.
Dialectical Behavioral Therapy (DBT)
Dialectical behavioral therapy, also known as DBT, is similar to cognitive behavioral therapy. This is another method that is utilized in addiction treatment that is used to address various mental health conditions. These types of conditions include:
Bipolar disorder and depression
Post-traumatic stress disorder
Anxiety-related disorders
Eating disorders
DBT is founded on the belief that mental health issues result from a mix of invalidating environments and emotional vulnerability. The members in treatment receive a balance of acceptance/validation and encouragement to continue on more of a healthier path going forward. DBT utilizes an exclusive treatment that incorporates:
Phone coaching that consists of treatment interventions between the sessions
Individual therapy focuses on current triggers and past traumas
Group therapy is centered around building skills
Post-Traumatic Growth Treatment
When an individual experiences trauma, their entire life can be altered. For this reason, it's substantial that the traumatic modifications in their life lead to post-traumatic growth. Various individuals undergo trauma experiences through mental illness, along with confusion and stress.
For example, several individuals experience trauma who will later develop:
A panic disorder
Depression
Anxiety
PTSD
Other fear-related disorders
The above-mentioned psychological struggles can make an individual re-evaluate the views on others, the world, and life itself. Even though the mental and physical obstacles and struggles that an individual will experience after trauma can be intimidating, they can cause a person to undergo transformative and positive self-growth. To transform traumatic lows into highs, a person should undergo post-traumatic growth.
Post-traumatic growth (PTG) is a theory that affirms that individuals who undergo psychological struggles following adversity often see positive growth afterward. In the mid-1990s, the psychologists Lawrence Calhoun Ph.D. and Richard Tedeschi Ph.D. developed this theory. Individuals who experience post-traumatic growth also tend to gain clarity on what they are seeking out of life.
When an individual goes through post-traumatic growth, it causes that individual to learn how to function better in life. Even though post-traumatic growth and resiliency are often used interchangeably, they aren't the same. Being resilient is having the personal ability to bounce back from any negative experience in your life.
Post-traumatic growth is when an individual who doesn't have a resilient personality undergoes trauma that causes that person to struggle psychologically. Furthermore, the person questions their core beliefs until they eventually develop personal growth. When individuals are fearful and anxious, it causes them to experience massive amounts of rediscovery and personal growth after going through trauma.
Family therapy is a therapy service that combines numerous clinical therapies that were utilized to improve communication and rebuild relationships. This type of therapy is different from various other forms of therapy since it doesn't focus solely on the individual recovering from addiction. Family dynamics might result in the siblings, spouses, and children requiring more attention during these sessions.
Nonetheless, the concluding goal is family harmony. Addressing family-rated issues and therefore maintaining healthy relationships can assist in forming stability in that recovering person's life. Support from family is critical for an individual struggling with addiction.
This type of therapy gathers a group of people that are undergoing addiction treatment to discuss triumphs, unique perspectives, and challenges. Group therapy is overseen by one or more licensed professionals. Overall, the goal of group therapy is for those who share their personal stories to be able to connect, learn, and grow.
Furthermore, the individuals will learn that they aren't alone in their struggle. Individuals within this group should share similar struggles and be able to sympathize with one another. Overall, this dynamic helps create a strong support system for everybody involved.
Individual therapy is a psychological method that involves the patient and therapist, psychiatrist, or mental health counselor. This form of therapy comes in various styles and formats. However, talk therapy is the most popular form. 
Generally, individuals in individual therapy discuss whatever is concerning them, including loss, divorce, addiction, and career changes. Anything discussed in this therapy is confidential. Individual therapy has become extensively accepted throughout several parts of the world. 
It's paramount to remember that comfort matters between you and your therapist. When you have a healthy professional relationship with your therapist, it's vital to achieving your goals. You will be able to explore past trauma and various other experiences that led to poor habits. 
In the beginning, it might be challenging to open up to your counselor and divulge your past. It's common to become distraught, angry, or emotional during your sessions. However, this step is pivotal if one desires to overcome fears, learn from mistakes, and become a better person.
Addiction Therapy Services are Available at First City Recovery
Here at First City Recovery, we understand the long road of mental illness and addiction stress that is heavy to sort through. We offer several addiction therapy services for those going through mental disorders, substance use disorders, drug and alcohol use, or co-occurring disorders. Our licensed and skilled professionals are eager to help. Happiness and sobriety are just one step away. Contact us today.
Contact Us Today
You can contact us through phone or email.
Prior to admitting yourself into an addiction treatment center, you need to contact that treatment center directly.
When you first communicate with an addiction treatment center, they will ask you several questions about yourself and your struggles with addiction. When they're asking you these questions, make sure that you are as honest as possible. This allows the treatment center to have a better idea of what programs to place you into.
At First City Recovery Center, we will do everything within our power to place you in the right treatment programs. As a result, we will be able to give you the highest chance of achieving long-term sobriety when you complete them.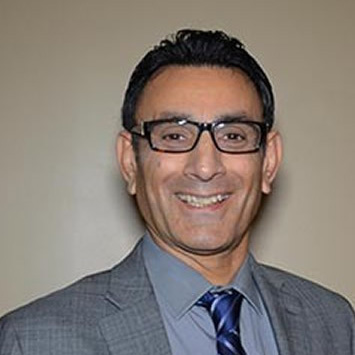 MD, Psychiatrist
Dr. Vahid Osman, MD is a psychiatry specialist in Indianapolis, IN.
Dr. Osman completed a residency at Austin State Hospital. He has over 32 years of experience in Psychiatry & Behavioral Health. He is board certified by the American Board of Psychiatry and Neurology.