Men's Addiction Treatment Program in Kokomo, Indiana
Everyone experiences addiction and addiction treatment in a unique way. It's one of the biggest reasons why, at First City Recovery Center, we provide custom treatment plans to fit each individual and their needs.
Here at our facility, we take it one step further, offering gender-specific treatment programs including a men's addiction treatment program in Indiana. We believe that providing men's specific treatment programs provides an additional layer of comfort while also eliminating another possible distraction.
What is Gender-Specific Treatment?
Gender-specific treatment programs are designed specifically to treat men and women separately. Men and women not only experience addiction differently, but they also react differently to treatment.
Additionally, whether subconsciously or not, some men and women simply don't feel comfortable opening up and being vulnerable around the opposite sex, especially those they don't know. Gender-specific treatment programs remove that potential for awkward and even uncomfortable interactions, separating the genders so that everyone can feel comfortable.
What Are the Differences Between The Genders When It Comes To Addiction Treatment?
When it comes to substance abuse and addiction, men and women experience the entire process differently.
According to the National Survey on Drug Use and Health, there are significant gender differences when it comes to:
Rates of dependence
Choice of substance
The way the brain responds to substance use and abuse
The reasons for using substances of abuse
As a result, men and women also experience the addiction treatment process differently as well. Traditionally, women are more receptive to entering treatment and are more likely to successfully complete the entire treatment process. Men, on the other hand, are more likely to view treatment as a last resort and are also more likely to drop out for a variety of reasons.
Unfortunately, men are also far more likely to relapse after treatment. A big reason for this is they are less likely to continue to focus on their sobriety once they have completed treatment, including attending support group meetings and taking any medications that they had been prescribed.
What Are the Benefits of a Men's Only Treatment Program?
As we have touched on, men and women experience not just substance abuse and addiction differently, but treatment as well. Men's-specific treatment programs allow for each treatment program to focus solely on men and the unique issues that they face in relation to their struggles with substance abuse and addiction.
As a whole, men tend to be more reserved when it comes to opening up and sharing their thoughts and feelings. Since this is a major part of addiction treatment, it is important that an environment is created where everyone feels comfortable speaking freely. Men's-specific treatment programs can focus on getting men to open up and share their feelings in a comfortable and supportive environment.
What Can You Expect From a Men's-Specific Treatment Program?
At First City Recovery Center, we offer a variety of men's-specific treatment programs including
Medical Detox
Alcohol Addiction Treatment
Drug Addiction Treatment
Regardless of gender, detox is the first step in the recovery process. Detoxing is done in order to rid the body of all the harmful substances that are in it so that the brain and body can begin to heal.
Depending on the substance of abuse, the withdrawal symptoms associated with the detox process can be unpleasant and even dangerous if not properly monitored. That's why medical detox is always recommended. Medical detox provides the medical care and supervision needed to make the entire process as comfortable as possible.
A medical detox program can be done at a local medical facility, a dedicated detox center, or a treatment center that also offers detox services such as First City Recovery Center. Attempting to self-detox can be potentially life-threatening. It can also lead to an increased risk of relapse as the withdrawal symptoms get worse.
At First City Recovery, we offer detox for the following substances of abuse as part of our men's detox program:
Alcohol
Cocaine
Heroin
Fentanyl
Benzos
Methadone
Meth
Opioids
Xanax
Men tend to suffer from alcohol addiction at a higher rate than women. Men are also less likely than women to seek out treatment for their Alcohol Use Disorder (AUD).
Men's alcohol addiction treatment at First City Recovery will consist of a variety of different therapies and treatment services, such as Medication-Assisted Treatment (MAT), designed to address the specific needs of men as it relates to their unique journey through the alcohol addiction recovery process.
Some of the different therapies that we offer with our men's alcohol addiction treatment program include:
For those battling drug addiction, either in addition to alcohol addiction or on its own, we also offer drug addiction treatment programs specifically for men.
Much like alcohol addiction treatment, drug addiction treatment will consist of a variety of therapies and treatment services.
Our men's drug addiction treatment program is available to those suffering from the following drug addictions:
Cocaine
Fentanyl
Prescription Drugs
Opioids
Tramadol
Xanax
Meth
Heroin
Treatment Services We Offer For Our Men's-Specific Programs
At First City Recovery Center, we know that even amongst our men's specific treatment programs, that not every treatment option is right for every person. That's why we offer our men's programs as part of all of our addiction treatment programs in Kokomo, Indiana including:
Inpatient Treatment
Outpatient and Intensive Outpatient Treatment
Partial Hospitalization
Aftercare and Relapse Prevention Services
Are You Looking For a Men's Addiction Treatment Program in Indiana?
Men face unique challenges when it comes to getting the help that they need for drug and alcohol addiction. They often react differently to treatment compared to women and may not feel as comfortable opening up about their struggles if there are women in the room during therapy sessions.
Here at First City Recovery Center, we understand the importance of gender-specific addiction treatment. If you or a male in your life is in need of addiction treatment and could benefit from a men's specific treatment program, contact us today. We're here to help.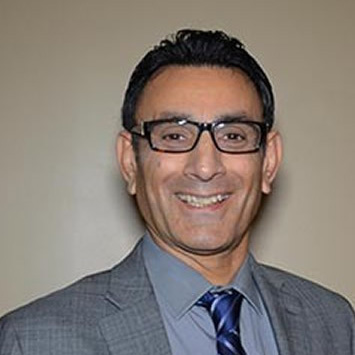 MD, Psychiatrist
Dr. Vahid Osman, MD is a psychiatry specialist in Indianapolis, IN.
Dr. Osman completed a residency at Austin State Hospital. He has over 32 years of experience in Psychiatry & Behavioral Health. He is board certified by the American Board of Psychiatry and Neurology.