Intensive Outpatient Program in Kokomo, IN
What to Know About Intensive Outpatient Treatment
Treating addiction is possible with the right support. An intensive outpatient program (IOP) offers clients a flexible way to approach their treatment. Clients are able to continue daily activities without disruption while still receiving treatment.
A residential treatment program requires clients to live on-site in a monitored location. In contrast, clients still live at home while in an IOP.
Sometimes, IOPs are used as a way to continue treatment after a residential program. They're primarily designed to facilitate the development of new coping mechanisms. You'll also learn new skills to help prevent relapse.
Why Choose an Intensive Outpatient Program
Choosing the right treatment approach can make a huge difference in your success. Live-in programs can be too inflexible for many patients. It's hard to schedule them around your other commitments in life.
An intensive outpatient program provides much-needed support with less impact on your daily life. You can still go to work like you usually would.
During a live-in treatment, you're separated from harmful influences. Access to substances is limited, and you're kept away from people who might undermine your progress. This provides clients with the highest level of care possible. However, living at a treatment center may not always be feasible.
If you have obligations keeping you out of a treatment center, then an IOP could be right for you. People with a safe living environment at home are ideal candidates. Supportive family members could help your progress as well.
Severe cases of addiction tend to respond better to more intensive care options. If you have a moderate case of addiction, an IOP would be suitable for you.
Stages of Addiction Treatment
The American Society of Addiction Medicine defines addiction treatment along a continuum of care. There are five stages to their care protocols. An intensive outpatient program would be considered Level 2 treatment.
The first stage is intervention services. That includes having a family member talk about your addiction with you. This step is crucial to begin the treatment process. Clients must recognize that there is an issue to begin healing.
Level 1 treatment would be a general outpatient treatment protocol. This might look like visiting a therapist on a weekly basis. In between sessions, you'll be left to your own devices.
As a Level 2 treatment, IOPs provide more support than traditional outpatient programs. They involve 10-12 hours of different therapies each week. You're also encouraged to attend a 12-step program while undergoing therapy.
Generally, you'll attend therapy on-site at a treatment facility. However, online programs have become much more widespread in recent years. This improves accessibility for people living in rural areas.
What Should You Expect From an IOP?
Clients should expect to visit an on-site treatment facility three to four times each week. Most treatment sessions will last for around three hours. The Substance Abuse and Mental Health Services Administration requires between nine to 20 hours of weekly treatment in an IOP.
IOPs provide more intensive care than traditional outpatient programs. As such, you'll receive more therapy hours than in a traditional outpatient program.
Clients receive therapy through several different modalities. They'll participate in group therapy sessions. During your group therapy sessions, you'll share with others. You'll also get to hear their stories. Therapists will lead you throughout the sessions, and they'll help teach you how to live differently.
You'll receive one-on-one therapy with a counselor as well. You'll receive an individual counselor who will remain with you throughout your treatment. You may continue seeing them once you've finished your intensive outpatient program, too.
Group Therapies
The core of most intensive outpatient programs is composed of group therapies. Some studies have shown them to be just as effective as individual therapies.
Group therapies offer several unique advantages compared to other treatment methods. You'll have a chance to socialize with others going through similar issues. Supporting each other tends to boost each client's self-confidence.
Building new relationships helps to remove the dependency on unhealthy connections. Often, clients have toxic social networks. Their existing friends might encourage addictive behavior.
Working with other clients helps to remove those toxic influences. You'll build new social connections with people who are committed to recovery.
Group therapy may also help you learn how to interact with others healthily. You'll have access to other group members who've gone through the same things as you. Often, their help is great assistance while you're early in the process.
The Substance Abuse and Mental Health Services Administration (SAMHSA) recommends that groups be limited to no more than 15 members. You'll work together with therapists to complete a variety of tasks.
Skill development therapies focus on teaching how to interact with others positively. A lot of clients have unhealthy ways of interacting with others. Learning how to interact better is a vital part of anyone's recovery.
Psychoeducational groups focus on teaching how the mind operates. You'll have access to emotional support, and you'll learn about addiction and dependence. Learning how they work can help you make better choices in the future. You'll also work on altering unhelpful thinking patterns.
Refusal training helps group members learn how to say no. Everyone will encounter invitations to use in the real world. Developing the skills to refuse such invitations is vital for long-term success.
Relapse prevention training focuses on teaching you how to identify and manage triggers. Everyone has their own set of triggers. Identifying them ahead of time helps to lower the chances of a relapse greatly.
Family groups help to integrate family members into your treatment. You'll learn how addiction can affect your loved ones. You'll also learn how to manage those issues.
Individual Therapy
Individual therapy is also a core part of our IOP program. However, it isn't the main focus as per SAMHSA. You'll work with a counselor one-on-one during these sessions.
Most of the time, you'll build upon the progress made during the group sessions. You'll also have time to speak about any personal issues with your counselor.
A lot of people don't feel comfortable being fully open during group sessions. Individual counseling helps you talk about things you kept back during group sessions. Typically, you'll see your individual counselor on a weekly basis. During these sessions, you'll work together to build an open and trusting relationship.
Maintaining an open relationship with your therapist is critical to your success. You'll have plenty of time to speak with them about what's troubling you. Then, you'll be able to work on those problems together.
Once you've completed your intensive outpatient program, you may continue individual therapy. A lot of clients build great relationships with their therapists during treatment. Continuing to work with them afterward could help you maintain your recovery.
Other Therapies
Other therapies are often a part of an intensive outpatient program. Most of them focus on giving clients nonverbal ways to heal.
Art therapy could help you express things that are difficult to say. Therapists give you a topic, and you're supposed to draw it. Our drawings often convey difficult-to-express feelings, and they can be a great outlet for tough emotions.
Music therapy has also been found to be helpful during addiction treatment. Playing music with others can help to strengthen relationships with your group members. It can also serve as a powerful outlet for emotions.
Even equine-assisted therapy could be helpful. Working with animals seems to help people build trust in themselves. Learning to trust yourself is a huge part of any successful treatment.
Supplementary therapies are led by specialized staff members. These people are trained to assist clients in their particular modality.
Support Groups
Support groups help to establish healthy relationships outside of the treatment facility. Groups like Narcotics Anonymous provide a non-judgmental setting to help clients heal.
Using support groups can help you learn how to open up with others, and you'll get to hear the stories of people going through similar struggles. Offering support to them can help you remain strong in your commitment to recovery. They'll become close friends of yours, and their support can help you stick to your plans, too.
You're encouraged to continue attending them once you've completed your IOP. Attending a support group can help reduce your risk of relapse after treatment.
Picking the Right Treatment for You
The National Institute on Drug Abuse provides recommendations for people seeking treatment. These make it easier to decide which treatment modality would be right for you.
For treatment to be effective, it must be easily accessible. If you have scheduling conflicts, in-patient treatments might not be suitable. An intensive outpatient program would allow you to schedule treatment around your life.
Care needs to be personal as well. Intensive outpatient programs don't use a one-size-fits-all approach. Each client is given support according to their needs.
Evidence-based treatments are the most effective. All the treatments used by an IOP have been studied extensively.
Social support is another crucial component of recovery. IOPs focus heavily on group therapies. As such, they're great at helping clients build new social groups. A supportive social group is often the difference between success and relapse.
Treatments are most effective whenever they're ongoing. Many clients begin their treatment at an intensive outpatient program. Then, they'll transition to a less intensive program later on. The longer you're undergoing treatment, the more successful you'll be.
Contact Us for More Information
First City Recovery Center offers several intensive outpatient therapy programs. Contact us to learn more about how we could help with your recovery. We'll discuss what to expect during treatment, and we'll help you decide which type of treatment would be most effective for you.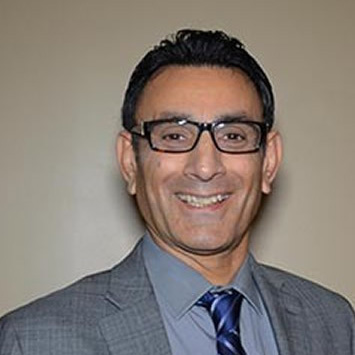 MD, Psychiatrist
Dr. Vahid Osman, MD is a psychiatry specialist in Indianapolis, IN.
Dr. Osman completed a residency at Austin State Hospital. He has over 32 years of experience in Psychiatry & Behavioral Health. He is board certified by the American Board of Psychiatry and Neurology.