Drug Rehab & Alcohol Detox in Columbus, IN
Drug Addiction and Rehab Treatment in Columbus, Indiana
As the county seat of Bartholomew County, Indiana, Columbus has a number of things to offer both residents and visitors. Although its population of about 50,000 makes it a relatively small city, it's home to modern architecture and public art venues and several national historic landmarks. Columbus also sits just 40 miles south of Indianapolis, so it offers easy access to everything Indiana's state capital has to offer.
The Columbus area has plenty to offer nature lovers and fans of active recreation. It features more than 700 acres of parks and green space and 21 miles of People Trails for runners, bikers, walkers, and those with special needs. Athletic and community facilities include an aquatic center, a softball complex, an ice arena, and gymnastics center.
While there are plenty of great things to say about Columbus, the city, like the rest of Indiana and the country as a whole, has been deeply affected by addiction in recent years. Nearly 500,000 Indiana residents meet the criteria for having a substance use disorder. Drug overdoses have also doubled in recent years, and now, more people in the state die from drug-induced causes than car crashes.
The good news is that there is always hope for those dealing with a substance use disorder. Treatment facilities like First City Recovery Center offer a range of treatment options to improve your health and help you live a drug-free life. If you or someone you love is in need of treatment, inpatient rehab is one of the most comprehensive options available. Read on to learn more about what to expect from inpatient treatment and the path to sober living that lies beyond it.
First Step: Medical Detox
Depending on the drugs in your system and the amount of time that you've been using, you may need to undergo supervised medical detox. Because detox can be associated with uncomfortable and potentially dangerous side effects, it's never a good idea to go through it without medical supervision. In a medical detox facility, you will be evaluated and monitored by a medical doctor who will supervise the entire process to ensure that drugs and alcohol safely leave your system. In some cases, medications will be prescribed to make you feel more comfortable as you go through withdrawal. Although it varies depending on the substance used and the duration of use, there are several withdrawal symptoms that you may experience. They include:
• Anxiety
• Nausea and vomiting
• Mood swings
• Fever
• Physical discomfort
In most cases, the symptoms are manageable. Also, once the drugs have left your body, you can begin to fully focus on your recovery with the help of trained counselors and peers who are going through similar experiences.
Inpatient Therapy Includes Individual and Group Counseling
The unfortunate culture of shame around addiction leaves many addicts struggling to take the first step and reach out for help. This may mean that you have put off asking for help until you suffered a serious life event such as the loss of a job or relationship. In such an event, you may now be dealing with serious emotional distress and financial challenges while also needing treatment.
Pressure is often a trigger that sends people into the isolation that makes drug and alcohol abuse such a pervasive problem. Because your well-being is critical to handling life stress, inpatient rehab after detox is critical to getting your life back in order.
In-person counseling will be used early in your rehab process, possibly as you come out of physical detox. During this counseling, you may have to answer some tough questions. Such probing may bring up negative feelings, especially as you move out of the physical discomfort of detox. It's all part of the learning curve of relying on others, which you may not have allowed yourself to do in the past.
Therapy practices such as cognitive behavioral therapy (CBT) allow you to break loose of strict "if, then" thinking. For example, if you have a particular trigger experience or person that causes frustration or anger, your CBT counselor can help you to find ways to think your way around the helplessness that leads to frustration. CBT can't change the stressors in your life, but it can go a long way toward understanding how to get around your stress, work through it, or simply set it aside and move in a better direction.
Group counseling may be used along with in-person counseling, or you may move into group therapy as you gain confidence in your private therapy sessions. Like detox and rehab, the actual therapy process can be challenging and uncomfortable. However, the growth that's possible with both kinds of therapy can serve you well as you move back into the outside world.
Working alongside others who are also receiving treatment for substance use can help you see that you are not alone in your struggles. You can also begin to develop a supportive peer group that can help you stay on the path to recovery well into the future.
Co-Occurring Disorders
Deep connections crop up between drug use and mental health issues. Many people who suffer from anxiety or depression, for instance, turn to drugs or alcohol as a way to calm their minds or lift their spirits. However, over time, using drugs and alcohol can make those mental health problems worse.
As drugs start to depress the brain's ability to react to the environment, the brain will work harder to return to the status quo, which means you have to use even more of the drug to impact the condition you thought you were managing. This is true of:
• Anxiety sufferers who use cannabis or alcohol
• Bipolar disorder sufferers who use a stimulant to maintain the manic phase
• PTSD sufferers who use opioids to even things out
• Chronic pain sufferers who use more and more intense opioids to get on top of their physical or mental pain
Because you can quickly build up a tolerance, there is no long-term relief with many illegal or inappropriately used drugs, and management is only possible with supervision. If you, like many others, are dealing with substance use disorder and co-occurring mental health issues, a medical professional can help you treat the condition with therapy and appropriate medications rather than your substance of choice.
Medical Assistance
Depending on what drugs were in your system, you may be given prescription drugs to help you get through the detox process. For example, there are many opioid blockers that can help you get through the discomfort of opioid detox, but you will need to be weaned off these products during rehab.
Each client is different. Your tolerance for such medical support may be quite effective, allowing you to move from detox to inpatient to intensive outpatient and finally to standard outpatient therapies. Your monitoring team can help to keep you safe as you continue to work through the physical effects of drug use.
Expect physical monitoring to continue as you work through detox and into more standard inpatient treatment. Your diet may be monitored, and you may get supplemental medications to try to bring your body back into balance. Stay informed. Feel free to ask about a particular medication or a change to your food options.
What to Expect After Inpatient Treatment
While the care you receive from an inpatient provider will go a long way toward your recovery, breaking free from alcohol and drugs is a long process that requires continued work on your part. Fortunately, there are many treatment options and resources available to help you on your recovery journey.
Partial Hospitalization Program
Some individuals only need inpatient treatment while they go through the detox phase. After medical detox, you may have the option to participate in a partial hospitalization program (PHP). This type of treatment is intensive, but you will not be required to stay at a facility 24/7. During PHP treatment, you'll receive the same evidence-based treatments offered in an inpatient facility to help you manage negative thinking patterns and learn healthy behaviors that can lead to positive change. You may also receive medication management to treat both mental health and substance use issues.
Intensive Outpatient Treatment
Most people living with a substance use disorder have everyday responsibilities that they must manage while in recovery. When you can't put your entire life on hold, intensive outpatient treatment (IOP) can help you receive the care you need without completely disrupting your work and family life. Intensive outpatient programs typically involve 10-12 hours of therapy each week. Often, you'll visit a treatment facility around four days a week to engage in individual and group therapy focused on skill development, psychoeducation, refusal training to help you handle peer pressure to drink or use, and relapse prevention.
Traditional Outpatient Treatment
For the best chance at long-term recovery after inpatient treatment, those with substance use disorder must continue to receive ongoing support, education, and counseling through an outpatient treatment program. Unlike IOP treatment, traditional outpatient programs may only require you to attend one or two sessions a week. During outpatient therapy, you will also be encouraged to take part in recovery groups such as Narcotics Anonymous and Alcoholics Anonymous so that you can build a support system outside the treatment you've been receiving.
Letting Go
Part of the recovery process is knowing what needs to be allowed to leave your life. You may have friends who simply can't function unless they're using. Turning away from them for a time while you build your new community is a choice you must make for yourself.
You may also find that some loved ones simply have to go on the back burner. For example, many people currently struggling with addiction grew up in a house with a lot of addiction. You may have a parent or a sibling that simply can't handle the choices you're making or what you're going through right now, and that is OK. You don't have to stop interacting with them forever, but if they can't embrace the help you're seeking and the life you're working to build, then it's time to put some distance between you.
Finally, look for ways to learn new things. For example, you may find a friend in group who can help you to learn a new craft. Addictive substances strengthen the brain paths that lead you to the next fix or drink. It helps to practice thinking in new ways, whether that's learning a new dance step, an advanced yoga move, or a new crochet stitch.
Learning new processes helps us get our brains unstuck, which is wonderful for lowering your stress level and seeing life as a series of large, wonderful events broken up by manageable problems. The sooner you can take pleasure in new projects and pathways, the sooner you will own your future. That means getting through detox, digging into counseling, rebuilding your physical health, and learning how to connect with your tribe both in and out of rehab.
If you're struggling with addiction to alcohol or drugs, don't wait to reach out for help. Contact the team at First City Recovery Center for more information about available services.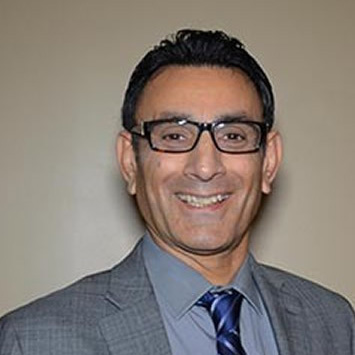 MD, Psychiatrist
Dr. Vahid Osman, MD is a psychiatry specialist in Indianapolis, IN.
Dr. Osman completed a residency at Austin State Hospital. He has over 32 years of experience in Psychiatry & Behavioral Health. He is board certified by the American Board of Psychiatry and Neurology.