Opiate Rehab Program in Kokomo, IN
Treatment for Opiate Addiction
Approximately
1.4 million people in the United States
had a substance use disorder (SUD) related to prescription opioids in 2019. Opioid use disorder (OUD), or addiction, remains a public crisis in the USA not only because it causes addiction but also because it can lead to overdose incidents and deaths. Opioid addiction treatment centers are located in almost every state across the country to tackle this crisis and help those affected. This means that you or someone you know who is battling an opioid addiction can get the help they need to recover and go back to living a productive life. Recovery specialists use evidence-based methods such as medication-assisted treatment (MAT) and various kinds of mental health therapies to help clients regain their sobriety and avoid a relapse.
What Are Opiates?
The term
"opioids"
refers to a class of medications that bind to opioid receptors in the brain, prescribed by doctors primarily for treating chronic or severe pain. The term is often used interchangeably with "opiates," which are made from the opium poppy plant. Opiates used for pain relief include morphine and codeine. Opioids may be either naturally derived substances or synthetics made by scientists in a lab. Synthetic opioids include fentanyl and methadone. Other common prescription opioids include: • Oxycodone • Hydrocodone • Oxymorphone Heroin is an opiate that is illegal, widely abused, and significantly adds to the addiction and overdose statistics in the United States.
Are Prescription Opioids Safe?
Opioid medications are generally safe when taken for a short period as directed by a doctor. The drugs work by interacting with the opioid receptors in your brain cells. They cause the cells to release signals that suppress or inhibit your perception of pain. At the same time, these drugs create a pleasurable sensation called euphoria. This may cause you or your loved one to continue taking them to keep experiencing these feelings.
How Does Opioid Addiction Happen?
Having an opioid addiction means you have a compulsive and overpowering urge to use opioid drugs after you no longer require them medically. People dependent on drugs usually continue taking them without regard for the negative consequences or potential risks to their health and life. Opioids have a high potential for causing addiction, particularly when misused or abused. Examples of misuse include taking larger amounts of pills or taking the pills more frequently than your doctor prescribed. In addition, taking medication prescribed for someone else, buying opioids from illegal sellers, or using opioids recreationally are other examples of misuse. Besides physical and psychological dependence, opioid use disorder leads to other consequences. It increases the risk of deaths of infants born to mothers dependent on these drugs. It also comes with an increased risk of contracting infectious diseases, including HIV and hepatitis C. Treatment in a clinical setting is almost always needed to help individuals recover from an opioid use disorder. Medication-assisted treatment has shown to be effective in the treatment of opioid dependence.
What Is Medication-Assisted Treatment?
Medication-assisted treatment involves the use of medications in combination with behavioral therapies and counseling as part of a "whole-patient" approach when treating SUDs. More specifically, effective medications are available to treat opioid use disorder and help people recover. Despite this, fewer than half of privately funded substance use disorder treatment programs offer MAT. Only a third of patients with opioid dependence who might benefit from such treatment actually receive it. This is according to the
National Institute on Drug Abuse (NIDA)
.
Medications Used in MAT
The U.S. Food and Drug Administration (FDA) approved several medications for use in MAT programs and for treating opioid use disorder. Treatment is tailored to a client's individual needs. So far, the
three medications
primarily being used for opioid dependence are: • Buprenorphine: As a partial opioid agonist as well as an antagonist, buprenorphine works by suppressing and reducing cravings for opioids. It also provides relief against opioid withdrawal symptoms. • Methadone: This medication is an opioid agonist that reduces opioid cravings by blocking the effects of these drugs and helping with pain during withdrawal. It also decreases the level of euphoria caused by shorter-acting opioids such as codeine, oxycodone, and heroin. Methadone treatment can be started at any time during opioid use disorder treatment without the need to go through withdrawal first. • Extended-release naltrexone: As a full antagonist, naltrexone works by completely blocking the euphoric and analgesic effects of all opioids. However, it is most appropriate for those who need to
avoid treatment with opioid agonists
, including buprenorphine and methadone. The medication blocks the effects of opioids at the sites of the opioid receptors in the brain. However, naltrexone is intended for use only after detox. Doctors use these medications for treating OUDs related to short-acting opioids such as codeine, morphine, and heroin, in addition to synthetic opioids such as oxycodone and hydrocodone. According to the FDA, treatment with all three medications has been shown to be
safe and effective
in combination with therapy and counseling. There is also a medication called naloxone that is used in opioid overdose prevention, according to the Substance Abuse and Mental Health Services Administration (SAMHSA). Naloxone is an opioid antagonist. Doctors treat patients with the medication to
reverse toxic effects of an overdose
.
FDA-Approved Products for Opioid Dependence
The three approved drugs may be administered as a single treatment or in different combinations and via different routes. However, full detox is needed before treatment with naloxone. In fact, once treatment starts, both a buprenorphine/naloxone combination and an extended-release naltrexone formulation are
just as effective in treating opioid addiction
, according to the NIDA. FDA-approved buprenorphine treatments for opioid dependence include: • Buprenorphine and naloxone buccal/oral film • Buprenorphine and naloxone sublingual (under the tongue) film • Buprenorphine sublingual tablet • Buprenorphine and naloxone sublingual film for oral or sublingual use • Buprenorphine implant for subdermal administration • Buprenorphine extended‐release injection for subcutaneous use • Buprenorphine and naloxone sublingual tablets FDA-approved methadone treatments for opioid dependence include: • Methadone hydrochloride tablets • Methadone hydrochloride oral concentrate The FDA has also approved naltrexone treatments for opioid dependence, which include an extended-release injectable suspension administered intramuscularly. Additionally, advanced treatment is available to improve treatment retention. In November 2017, the
first once-monthly buprenorphine injection
for moderate to severe opioid addiction was approved by the FDA. The drug is intended for use in adult patients who have started treatment with transmucosal buprenorphine-containing products. An implantable buprenorphine formulation was previously approved in May 2016. Both treatments are also designed to remove the need for daily dosing.
Benefits of MAT in Opioid Addiction Treatment
MAT plays a crucial role in a comprehensive individualized program of medication and behavioral therapy designed to address the needs of the person in recovery. It has also proved to be clinically effective while reducing the need for detoxification within an inpatient program. Detox is a process by which the body pushes out the chemicals and toxins left behind from prolonged drug use. It is the first step to treatment and is usually needed for individuals with moderate to severe SUD. The overarching goal of MAT is to help the client achieve a full recovery and regain the ability to live a productive life while maintaining abstinence. In terms of benefits, MAT helps in the following ways: • Increases treatment retention and social functioning • Better prepares the client for behavioral therapies and counseling • Lowers the risk of relapse • Reduces illicit opiate use and other criminal activity among individuals with SUDs • Enhances the individual's ability to find and maintain employment • Improves birth outcomes among pregnant women with a SUD • Reduces opioid overdose deaths • Lowers the individual's risk of contracting diseases such as HIV or hepatitis C Research shows that individuals whose opioid addiction was treated with medication were more likely to remain in therapy than those receiving non-medication treatment. Medication for opioid dependence also reduces symptoms of neonatal abstinence syndrome (neonatal withdrawal) in babies born to mothers with OUD. There's research evidence that buprenorphine increases survival rates. For example, heroin overdose deaths
decreased by 37%
after buprenorphine became available in Baltimore, Maryland.
Can Medication for Opioid Use Disorder Cause Addiction?
Methadone and buprenorphine do not create dependency in people addicted to opioids. That's because the dosage used does not get the client "high." Instead, the medications help the client withdraw, reduce opioid cravings, and minimize the effects of withdrawal symptoms. They work by attaching to the same opioid receptors in the brain that are activated when someone uses prescription opioids or heroin. Medications for OUD also help the brain heal and restore balance to the areas of the brain affected by addiction. SAMHSA points out that buprenorphine, methadone, and naltrexone are safe to use for months, years, or indefinitely. However, due to the chronic nature of OUD, the client in recovery should be re‐evaluated periodically to determine if they need to continue MAT. Continued use should also occur under the supervision of a doctor or MAT program.
Mental Health Therapies Used in Opioid Addiction Recovery
Addiction is a complex disease that affects your brain function and behavior, but it can be treated. Addiction treatment is more effective when it addresses all aspects of the substance use disorder. MAT is only the first stage of treatment and is not sufficient to help individuals in recovery for addiction achieve long-term abstinence. In addition to MAT, your personalized treatment program for OUD should involve behavioral therapies and counseling. Common treatment programs and therapies include: • Medical detox • Dual-diagnosis treatment • Cognitive-behavioral therapy • Individual and group counseling • Trauma/PTSD therapy • Family therapy • 12-step program • Aftercare program • Relapse prevention program Treatment is delivered in different rehabilitation settings, such as inpatient, residential, intensive outpatient (IOP), outpatient, and partial hospitalization (PHP). The choice of rehab will depend on your or your loved one's needs. Today, rehabs provide dual-diagnosis treatment to treat both the substance use disorder and any co-occurring mental health disorder. That's because many people abuse medications to try and cope with mental health conditions such as anxiety, depression, or post-traumatic stress disorder (PTSD). Although MAT has multiple benefits, addressing mental health conditions at the same time provides a greater shield against potential relapse. Long-term care, known as aftercare, is also a crucial relapse-prevention strategy.
Benefits of Behavioral Therapies
Drug abuse changes the structure and function of the brain. These changes usually persist long after drug abuse ceases. This suggests that individuals are still at risk for relapse even after they recovered and enjoyed a long period of abstinence. Behavioral therapy is designed to deal with the psychological aspect of opioid addiction and can help those in recovery in the following ways: • Modify attitudes and behaviors that lead to or encourage drug use/abuse • Discover and understand drug use triggers • Provide strategies to deal with drug use triggers • Provide tools and life skills for building a productive life • Promote long-term abstinence Participation in family therapy, group therapy, and other peer-support programs during and after treatment are other strategies that support sobriety. The bottom line is that there is hope for recovery and long-term sobriety. If you're one of the millions of people battling an opioid use disorder, know that recovery and rehabilitation options are available in your state or another one of your choice. Getting timely treatment at an accredited rehab facility is critical since addiction is a disease that does not heal on its own. Effective treatment can also save lives by minimizing the chance of an accidental overdose.
First City Recovery Center Can Help You Conquer Addiction
Our addiction recovery center, located in Kokomo, Indiana, provides partial hospitalization and outpatient treatment programs. We offer medical detox and evidence-based addiction treatment to men and women who are determined to get their lives back. We're also one of the private addiction recovery facilities that provides accredited MAT for opioid addiction and prescription drug abuse. Our team of certified treatment specialists includes physicians, therapists, and counselors who are passionate about helping you or your loved one overcome opioid dependence. We are prepared to provide the support you need, from evaluation and intake to aftercare. Treatment and therapies take place at our private facility where you can feel safe, understood, and supported throughout your recovery journey. Call us at
877-595-3330
for more information about our programs and admissions process.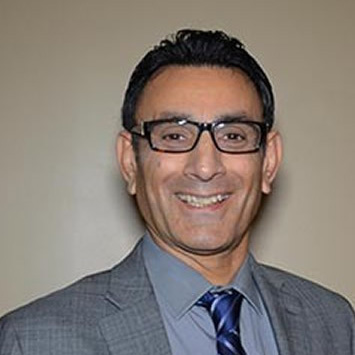 MD, Psychiatrist
Dr. Vahid Osman, MD is a psychiatry specialist in Indianapolis, IN.
Dr. Osman completed a residency at Austin State Hospital. He has over 32 years of experience in Psychiatry & Behavioral Health. He is board certified by the American Board of Psychiatry and Neurology.