Reactive Abuse & How Trauma Treatment Can Help
Substance abuse is a destructive path. This is even more true as it pertains to reactive abuse. Luckily, anybody struggling with reactive abuse can get the help they need. There are trauma treatment options available to help with reactive abuse; these options are available at First City Recovery Center, should you or a loved one decide to undergo treatment. Regardless it's imperative to find the best individualized care available.
What Is Reactive Abuse?
Reactive abuse is a term used to describe a pattern of substance use that involves the frequent and unexpected consumption of alcohol, illicit drugs, or prescription medications. This form of substance abuse is characterized by compulsive behavior which often leads to serious health risks and social problems.
People who suffer from reactive abuse often find it difficult to control their cravings, leading to frequent binges and cycles of sobriety. Reactive substance abuse can occur in both short and long-term patterns depending on the person's individual situation.
Reactive abuse is often caused by an underlying mental health issue such as depression, anxiety, or stress. People who are struggling with a mental illness are more likely to turn to substances as a way of coping with their symptoms. Additionally, those who have been exposed to trauma, abuse, or neglect may be at higher risk for developing reactive abuse.
How Can You Stop Reactive Abuse From Occurring?
One of the most effective ways to prevent reactive abuse from occurring is through proactive education and prevention strategies. Prevention programs can help individuals recognize early signs and symptoms of potential substance use disorders, demonstrate how to build healthy coping skills and identify community resources for support. These initiatives also provide a safe space for open dialogue about sensitive topics like addiction and mental health.
Additionally, parents and caregivers should be encouraged to create a home environment where honest conversations about drugs and alcohol are welcome. It's also important to provide access to quality substance abuse treatment services so that those who suffer from addiction can get the help they need early on. Developing strong relationships with local clinics, detox centers and rehabs will ensure that help is available when needed.
What Is Trauma Treatment?
Trauma treatment is the process of helping people recover from the psychological and emotional distress caused by traumatic experiences. It can involve a range of therapies, such as cognitive-behavioral therapy (CBT), exposure therapy, psychotherapy, and support groups. Trauma treatment is designed to help individuals who have experienced a traumatic event or series of events to begin the healing process and regain control over their lives.
Through a variety of techniques, trauma treatment can help individuals understand and manage their emotions, learn coping strategies, build healthy relationships, and develop resilience skills that they can use to better handle future difficult experiences. Trauma treatments often involve some form of talk therapy focusing on the individual's experience, as well as education on trauma and its effects.
Trauma treatment can also include relaxation techniques, such as deep breathing or mindfulness exercises, to help individuals manage stress and anxiety. Additionally, many individuals who have experienced trauma find it helpful to participate in support groups with other individuals who are dealing with similar experiences. With the right support, people can rebuild their lives after a traumatic experience, learning to cope with difficult memories and develop the resilience skills they need to move forward.
What Is Trauma?
Trauma is a type of psychological injury that occurs when a person experiences an intensely distressing event. It can be caused by physical, emotional, or environmental factors such as experiencing abuse, witnessing violence, natural disasters, accidents, or the death of a loved one.
Trauma can lead to feelings of fear, anxiety, depression and PTSD (post-traumatic stress disorder). It can also cause physical symptoms such as fatigue, headaches, and difficulty sleeping. The effects of trauma can be long-lasting and it is important to seek professional help if you experience any of these symptoms.
What's worse is that those struggling with trauma tend to abuse substances to cope with it. In fact, up to 34% of people in treatment also have PTSD–34% of those in treatment; this isn't including those who don't seek treatment for reactive abuse or substance abuse. Nearly 94% of those suffering from substance abuse who are 12 or older haven't sought treatment.
Is Trauma Triggering for Substance Use Disorder?
Trauma can be a major trigger for those suffering from Substance Use Disorder. Trauma can increase the risk of developing an addiction, as well as making existing addictions more difficult to manage. Many people with substance use disorder have experienced traumatic events in their lives, such as physical or sexual abuse or neglect, war or natural disaster exposure, and a wide variety of challenging life experiences.
Trauma can lead to a person using substances as a way to cope with the overwhelming emotions they are experiencing. While it may provide temporary relief, reactive abuse further complicates the problem and can cause long-term health issues and addiction. In addition, people with reactive abuse who have experienced trauma often have difficulty managing the symptoms; this includes cravings and withdrawal.
Why Is Trauma Treatment Necessary?
Trauma treatment is necessary to help individuals process their traumatic experiences and cope with the aftermath. It can be used to reduce symptoms of post-traumatic stress disorder (PTSD) Trauma therapy can also assist an individual in reconnecting with their body, mind, and emotions.
Trauma treatment can help individuals identify, process, and resolve painful memories related to the traumatic event. Trauma therapy may also provide relief from symptoms of depression, anxiety, or stress as well as increase positive coping skills. Additionally, trauma treatment can aid in building a sense of safety and trust that was broken due to the trauma.
Be Proactive, Not Reactive; Get Help Today
For those struggling with trauma, it's difficult not to cope with substances. Many individuals who have endured traumatic experiences are also suffering from reactive abuse. At First City Recovery Center, we offer comprehensive treatment for reactive abuse and trauma. If you or a loved one would like to find out more, you can contact us today.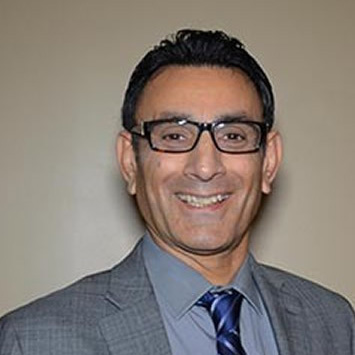 MD, Psychiatrist
Dr. Vahid Osman, MD is a psychiatry specialist in Indianapolis, IN.
Dr. Osman completed a residency at Austin State Hospital. He has over 32 years of experience in Psychiatry & Behavioral Health. He is board certified by the American Board of Psychiatry and Neurology.