The Signs of a Codependent Friendship
Friendships hold a unique place in our lives, offering companionship, support, and shared experiences that enrich our journey. From childhood to adulthood, these relationships shape our identities and influence our well-being. While friendships are often celebrated for their positive impact, it is crucial to acknowledge the existence of unhealthy dynamics or codependent friendships that can develop within them. If you ever feel like your friend's moods, choices, and actions directly impact your own happiness and self-worth, then you might be in this kind of relationship.
Unhealthy relationships can use major issues with mental health and more. Join us as we discover what codependent friendships are, how to spot them, and how to recover from them! If needed, mental health treatment centers in Indiana like First City Recovery, can help you get back on your feet after a traumatic relationship experience.
What is Codependency in Friendship?
Codependency, also known as relationship addiction, is a complex pattern of behavior that can emerge when individuals become excessively reliant on one another for their emotional validation, self-worth, and overall sense of identity.
Codependent friendship is characterized by an imbalanced give-and-take. In such relationships, one person assumes the role of the caretaker or "fixer," while the other person becomes increasingly dependent, seeking constant support and reassurance from their friend. The caretaker may feel a sense of validation and purpose in caring for their friend's needs, while the dependent person may feel temporary relief from their own emotional struggles.
Codependent friendships, however, can harm both individuals involved over time. The caretaker may neglect their own needs, sacrificing their own well-being to cater to their friend's demands. Meanwhile, the dependent person may develop an unhealthy reliance on their friend, feeling incapable of making decisions or managing their emotions without their constant support.
Recognizing the signs of a codependent friendship is crucial for initiating change and fostering healthier dynamics. By understanding the nature of codependency and its impact on the individuals involved, it becomes possible to seek healing, establish healthier boundaries, and cultivate relationships that promote mutual support, respect, and individual well-being.
What are the Signs of Codependency in Friendships?
Recognizing the signs of codependency in friendships is crucial for promoting healthier and more balanced relationships. Here are some common signs to watch out for:
Lack of boundaries: Having difficulty setting and maintaining personal boundaries, often feeling responsible for others' feelings and problems.
Over-involvement: Becoming overly involved in a friend's life to the point of neglecting one's own needs and interests.
People-pleasing: Constantly trying to please others at the expense of one's own needs and desires, often out of fear of rejection or abandonment.
Difficulty saying no: Struggling to assert oneself and say no to requests or demands, even when they conflict with personal values or priorities.
Need for control: Feeling a strong need to control or fix others' problems, often stemming from a fear of chaos or a belief that others are incapable of managing their own lives.
Low self-esteem: Basing self-worth on the opinion of others and seeking external validation, often leading to feelings of inadequacy and insecurity.
Emotional reactivity: Easily becoming emotionally reactive to others' feelings and moods, often feeling responsible for their emotions.
Fear of confrontation: Avoiding difficult conversations or expressing dissatisfaction or disagreement in fear of damaging the relationship.
Dependency: Relying heavily on a friend for emotional support and validation, often leads to an imbalanced and one-sided relationship.
Denial: Ignoring or minimizing unhealthy patterns in the friendship, often rationalizing or justifying codependent behaviors.
Remember that a healthy friendship involves mutual support while also maintaining your own identity. Speaking with a therapist can give you the tools and guidance you need to develop healthier relationships.
Causes of Codependent Friendships
Codependent friendships can develop as a result of a number of factors, including the following:
How to Overcome a Codependent Friendship
What are the Treatments for Codependency?
Codependency is typically addressed through a combination of therapy, support groups, and self-help techniques. Here are some common approaches used in the treatment of codependency:
Individual Therapy: Working with a therapist who specializes in codependency can be beneficial. They can help you explore the underlying causes of codependency, develop healthier coping mechanisms, improve self-esteem, and establish boundaries.
Group Therapy: Participating in support groups or group therapy sessions specifically focused on codependency can provide a sense of community and shared experiences. It offers an opportunity to learn from others, gain support, and practice healthier relationship dynamics.
Cognitive-Behavioral Therapy (CBT): CBT is a widely used therapeutic approach that helps individuals identify and change unhealthy thought patterns and behaviors. It can assist in challenging negative beliefs, improving self-awareness, and developing healthier relationship patterns.
Self-Care and Self-Development: Focusing on self-care activities, such as pursuing hobbies, engaging in regular exercise, and practicing mindfulness, can help build a stronger sense of self and reduce reliance on others for validation.
Assertiveness Training: Developing assertiveness skills can empower individuals to express their needs, desires, and boundaries in relationships. Therapy can provide techniques to enhance assertive communication and reduce tendencies towards passive or aggressive behavior.
Addressing Underlying Issues: Codependency often stems from unresolved emotional issues or trauma. Therapy can help explore and process these underlying factors, facilitating healing and personal growth.
It's important to note that the treatment approach may vary depending on the individual's specific needs and circumstances. A qualified mental health professional can tailor the treatment plan to address your unique situation and guide you toward healthier relationship patterns.
Strive for Healthy Relationships with First City Recovery Center
Embracing change can be challenging, especially when codependency has its roots in your past. Engaging with a therapist at First City Recovery Center can help you overcome and transform codependent tendencies, presenting a viable path to cultivating nourishing connections. Contact us today and discover more about our programs!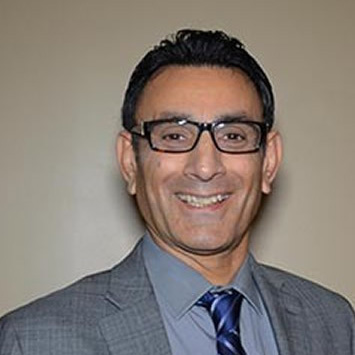 MD, Psychiatrist
Dr. Vahid Osman, MD is a psychiatry specialist in Indianapolis, IN.
Dr. Osman completed a residency at Austin State Hospital. He has over 32 years of experience in Psychiatry & Behavioral Health. He is board certified by the American Board of Psychiatry and Neurology.