The Long-Term Effects of Adderall Use
Adderall may seem like a miracle drug, but there's a lot you should know about the long-term effects before deciding to make it a habit.
Sure, in the short term, Adderall can make you feel like a rock star – you're focused, energized, and ready to take on the world. But keep using it, and you may find yourself addicted, anxious, and struggling with memory problems, not to mention a host of physical issues. The high eventually wears off, but the damage to your body and mind can be permanent.
If any of this hits close to home, it's time to have an honest conversation with your doctor about safer alternatives and whether Adderall is still right for you. The truth is, what seems like a quick fix now may end up costing you down the road. If you are having trouble stopping the use of adderall, we offer various addiction treatment programs in Indiana that can help you or your loved one.
What Is Adderall and How Does It Work?
Adderall is a stimulant medication prescribed for the treatment of attention deficit hyperactivity disorder (ADHD). The active ingredients in Adderall are amphetamine aspartate monohydrate, amphetamine sulfate, dextroamphetamine saccharate, and dextroamphetamine sulfate. These substances work by increasing the levels of certain neurotransmitters in the brain, specifically dopamine and norepinephrine.
By increasing the levels of dopamine and norepinephrine, Adderall helps improve attention, reduce hyperactivity, and enhance impulse control in individuals with ADHD. The exact mechanism of action is not fully understood, but it is believed that the medication increases the release and blocks the reuptake of these neurotransmitters, prolonging their effects in the brain.
Adderall is classified as a controlled substance because it has the potential to be abused and lead to dependence. It should only be used under the supervision of a healthcare professional, and the dosage should be carefully monitored to avoid misuse or addiction.
What are the Short-Term Effects of Adderall?
Adderall can have short-term effects on individuals who take it. These effects can vary depending on factors such as dosage, duration of use, individual physiology, and the specific medical condition being treated.
Some possible short-term side effects of Adderall include:
Increased focus and attention: One of the primary short-term effects of Adderall is an improvement in focus and attention. It can help individuals with ADHD concentrate on tasks, stay organized, and reduce impulsivity.
Increased energy and wakefulness: Adderall is a stimulant, so it can increase energy levels and reduce feelings of fatigue. This effect can help individuals with ADHD feel more alert and awake during the day.
Elevated mood: Adderall can produce feelings of euphoria and increased motivation in some individuals. This effect is related to the increase in dopamine levels, which are associated with reward and pleasure.
Increased heart rate and blood pressure: Adderall can cause temporary increases in heart rate and blood pressure. This effect is due to the stimulant properties of the medication and can be more pronounced at higher doses.
Decreased appetite: Adderall can suppress appetite, leading to a decrease in food intake. This effect can result in weight loss, especially during the initial weeks of treatment.
Are There Any Long-Term Effects of Adderall?
The long-term use of Adderall, especially when taken in high doses or used inappropriately, can potentially lead to several side effects. It's important to note that not everyone who takes Adderall will experience these side effects, and the severity and occurrence of side effects can vary between individuals. Here are some potential long-term effects of Adderall overuse:
When Should You Stop Taking Adderall and Talk to Your Doctor?
If you've been taking Adderall for a long time and the side effects seem to be getting worse, talk to your doctor. Some signs that it may be time to stop or change your treatment plan include:
You need increasingly higher doses to feel the effects. This could indicate you're developing a tolerance or addiction.
You experience worrisome physical symptoms like chest pain, shortness of breath, or psychosis. Adderall can raise blood pressure and heart rate, especially at high doses.
Your mental health and relationships are suffering. Adderall may exacerbate symptoms of anxiety, depression, or paranoia and cause problems with friends and family.
You have trouble functioning without it. If you feel unable to start your day or accomplish tasks unless you've taken your Adderall, this is a sign of dependence and addiction.
Your growth and development seem delayed or impaired. Adderall use in children and teenagers needs close monitoring to ensure normal growth.
Your doctor can provide alternative treatment options or a plan to safely stop Adderall. They can help determine if the benefits still outweigh the risks in your situation and the best way to make any changes to your treatment. Don't stop taking Adderall abruptly without medical guidance.
First City Recovery Center in Kokomo, Indiana Can Help with Adderall Treatment
First City Recovery Center in Kokomo, Indiana offers customized treatment programs for those struggling with prescription drug addiction or dependence. Our caring staff understands the challenges of quitting Adderall and provides the necessary support and resources for a successful recovery. We focus on both the physical and psychological aspects of overcoming an Adderall use disorder. You don't have to go through this alone – help and hope are just a phone call away. Contact us now!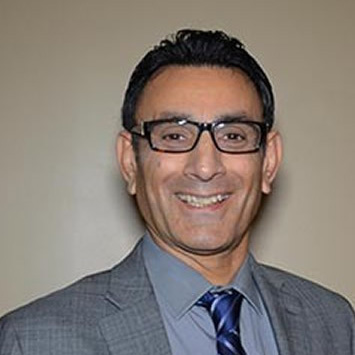 MD, Psychiatrist
Dr. Vahid Osman, MD is a psychiatry specialist in Indianapolis, IN.
Dr. Osman completed a residency at Austin State Hospital. He has over 32 years of experience in Psychiatry & Behavioral Health. He is board certified by the American Board of Psychiatry and Neurology.