How To Get a Job In Early Recovery
The process of looking for a new job is tough for anyone. It's endless paperwork and submitting resumes and writing/reading emails and going to interviews, and it's never exactly thrilling. For recovering addicts, however, the process can be monumentally difficult. Sometimes it can seem like a mountain to climb without any hiking gear. The thing is, it can be difficult, but it doesn't have to be.
First City Recovery Center wants to help, and so the following is a five-step guide to all aspects of entering the workforce as a recovering addict. It begins with a self-assessment, as well as doing some brainstorming about which type of job you want. From there we'll get into the nitty gritty of it all, including plenty of options specific to recovering addicts. You CAN and WILL find a job. If you're not ready, we'll get you ready. Let's begin.
STEP ONE – Self-Assessment
Obviously we all need money to live, but you must ask yourself: "Am I ready to start a new job?" As a recovering addict, you hopefully have resources and a help network available to you. If you truly feel as though you're not ready to enter the workforce, reach out to someone you trust. If you attended an addiction recovery facility, ask about any aftercare programs they may have. Starting a new job requires commitment, and that requires a healthy body and mind.
Keep in mind though that a new job also offers stability and opportunity. Although it may seem daunting, if you feel at all capable and ready, then move on to step 2. If you're just not ready, seek the help you need and deserve.
STEP TWO – Determine an Industry
Make a list of all your skills and trades. Are you good with numbers? Electric work? Plumbing? Carpentry? Maybe you want to explore a new field entirely? Think about the busiest road nearby, whatever your Main Street is. What businesses are there? Could you see yourself working for any of them?
Some things to consider when you're figuring out which industries you would fit into:
What do you want out of your job? Is it strictly money or is it maybe a flexible schedule or good benefits?
What are the pros and cons of the industries/businesses you've listed?
Will you have adequate transportation if you don't own a vehicle?
Are there opportunities for advancement if you so desire to climb the ladder?
Once you have a good idea of which industry or industries you want to work in, and you know what you want out of your job, it's time to start the dirty work. Some of what follows may strike you as obvious, but we want to make sure we cover all the bases.
STEP THREE – The Resume
Update your resume! We're going to say this again… Update your resume! Any gaps in employment that aren't explained will be red flags to potential employers. If you have a resume already, great! Bookmark this article, open your resume, and update it all the way to today.
The most important part of any resume is the Skills section. Former employment is wonderful, and an attention-grabbing, positive, well-written 'About Me' will help, but the Skills section is essential. List all your skills! Some people tend to forget that certain skills are, well, skills… such as typing, reading, writing, knowing any second languages, being computer-savvy, being efficient at Word or Excel or Outlook, musical ability, athletic ability, and even some human traits such as patience, ability to work under pressure, or leadership.
Don't forget to include any certifications you've earned or any classes you've taken post-high-school. Also, have someone proofread it, even if you think you're a grammar wizard. It's always best to have another trusted pair of eyeballs look it over. If you simply have no clue how to make a good resume, there are plenty of websites online that will show you. A simple search for "resume template" ought to do the trick.
STEP FOUR – Apply! Apply! Apply!
Famous hockey player Wayne Gretzky once said, "You miss 100% of the shots you don't take." You also miss 100% of the jobs you don't apply for. Now that you have your industry or industries chosen and your resume is updated, it's time to apply to actual jobs.
There are countless websites and apps that can assist you in finding jobs. However, we want to mention a few that are specifically catered to recovering addicts. Probably the most established of these resources is the US Department of Labor's One Stop Career Center. Here you'll find multiple resources for all types of walks of life seeking employment. Another well-established resource along these lines is the National Skills Coalition. They'll help you connect and network with employers that may actually be seeking people like you. A third option that can do wonders for recovering addicts is The Salvation Army. When it comes to employment, they offer job placement programs specifically designed for recovering addicts.
Other choices include LinkedIn, Monster.com, Manpower, Indeed, Zip Recruiter, and using any social media accounts you may have to reach out to friends/family. (P.S. LinkedIn offers classes if you want to learn new skills applicable to your job hunt.)
Frankly, we trust that you know how and where to seek jobs, but we do hope the previous information helped. The bottom line is that you need to apply in order to work. So, go ahead and apply for every single job that seems suitable for you. It can't hurt. It can only help.
STEP FIVE – The Interviews
First off, if you're not comfortable telling your potential employer that you're a recovering addict – great news… You don't have to. You're not legally obligated to disclose this information. It might be a good idea to come forward though, especially if you're on any medications for your recovery. If this is the case, your employer will indeed have to know since you'll likely be taking the meds on the clock. That being said, it's your right to keep your addiction status to yourself.
Also, it's important to be yourself. Don't be who you think they want you to be. Have confidence in your abilities and your character, and don't be afraid to tell your interviewer what you'll bring to the table. This is your chance to brag a little!
Shake their hand(s). Make eye-contact. Thank them for their time. Go above and beyond by doing a little research about the company and asking questions that apply. Oh, and dress nicely! You don't have to go rent a $5,000 tuxedo, but appearance really does matter, whether you think that's unfortunate or not. Be sure to show up looking professional.
Simply Not Ready? Here's Some Real Talk and Advice
Put your mental health first. We began this article by emphasizing how crucial it is to be ready for a new job. Now we want to offer some 'real talk and advice' to those who may feel as though they're not ready for the workforce but still want to enter it.
We always want you to try your hardest, but it's important to keep in mind that if you start a job and you hate it, you can always leave. If your job isn't meeting your needs, go right back to Step One up there and start over! If you've been hired and you're nervous to start or you're having second thoughts, reach out to someone you love and trust to have your best interest in mind. Hopefully they'll remind you of everything good that's to come once you start working.
Yes, the process of finding and starting a new job might stink, but in case you need reminder, here are some pros to starting a new job (and also to having a job in general) if you are a recovering addict:
You get money! Duh!
You can make friends… sober ones.
You have a set schedule which helps with overall self-discipline.
You have a place you can be sober without temptation.
You have an excuse to avoid
You get money. Did we say that?
Anyway, if you're still not feeling ready to start a new job but you're feeling like you're capable, move onto the next section. If this particular section helped enough, then go ahead and click that little x on the top right and start applying! However, if you simply are not ready to start a new job then this is your last chance (in this article anyway) to reach out to a loved one and seek the help you need and deserve.
Some More Tips and Motivation
Recovering addicts may find it challenging to list former employment and/or references. Also, you may have a criminal record, or you may simply feel the stigma of recovering from addiction. First off, you're not alone… not even close. Millions of Americans have a history of drug or alcohol addiction, and as it turns out, most of them are working (statistically).
Secondly and more importantly, the law is on your side. Aside from felonious criminal charges, criminal history and/or addiction status rarely needs to be reported to a prospective employer. And yes, there is a stigma when it comes to addicts – even those in recovery – but just as with any stigma, it's popular opinion but not necessarily individual opinion. Most people are within one or two degrees of separation from someone affected by addiction. Therefore, most people will understand your situation if you so choose to disclose it. Once again though, chances are you don't have to disclose it. Employers (good ones anyway) care about reliability, not your past. And so be yourself. Update your resume, take on all the interviews you get, and choose which job will suit you best.
If you have any questions or concerns, or if you simply want to talk more detail with a specialist, call us right now at 1-877-595-3330 or go back to our homepage. At First City Recovery Center, we believe that your comfort is both necessary and important as you move beyond addiction. This is why we offer a beautiful, luxurious, and welcoming facility here in Indiana. While pursuing a life free from substance use disorder, you can find the hope and peace you need right here at First City Recovery Center! We are dedicated to your physical well-being, your emotional health, and your overall success on the road to recovery. We are committed to you. Our team is willing and ready to assist you as you begin and continue your path to freedom from addiction.
We realize it's difficult to filter yourself back into the 'real world' and we realize how strenuous it can be to go through the process of finding a new job as a recovering addict. If you need help that isn't within the words of this article, call us or call someone you love and trust. Entering the workforce while in recovery should be a milestone! It should make you proud, so follow the five-step program above and put your best foot forward.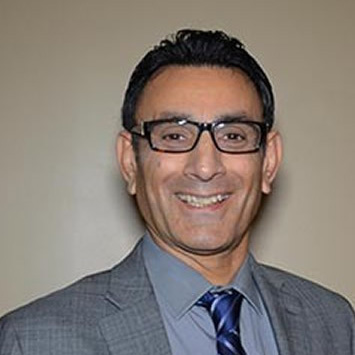 MD, Psychiatrist
Dr. Vahid Osman, MD is a psychiatry specialist in Indianapolis, IN.
Dr. Osman completed a residency at Austin State Hospital. He has over 32 years of experience in Psychiatry & Behavioral Health. He is board certified by the American Board of Psychiatry and Neurology.